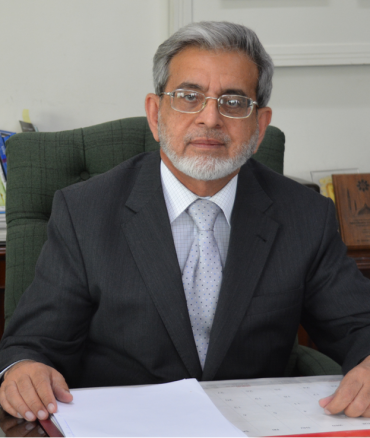 Dr. Imtinan Elahi Qureshi
Dr. Imtinan Elahi Qureshi
Dr. Imtinan Elahi Qureshi, born 1950, is a veteran scientist with over 130 publications in the inter-related fields of atomic, nuclear and particle physics. His areas of specialization include exotic atoms, heavy-ion reactions, radon dosimetry, and high-energy physics. His alma maters are Punjab University, Lahore (Pakistan), Quaid-i-Azam University, Islamabad (Pakistan) and University of Surrey, Guildford (UK), were he earned degree of M.Sc in Physics, M.Phil in Theoretical Physics, and Ph.D in Theoretical Nuclear Physics, respectively. His research career in Pakistan Institute of Nuclear Science and Technology (PINSTECH), as employee of Pakistan Atomic Energy Commission (PAEC), spanning some 25 years, also involved scientific management as Heads of Radiation Physics Division and Nuclear Physics Research Division. Dr. Qureshi has been interacting with the research centres and educational institutions in different countries as well as international organizations such as ICTP, IAEA and CERN in connection with research collaborations.
In the later part of his career in PAEC he served as Minister (Technical) at the Permanent Mission of Pakistan to the United Nations and other International Organizations in Geneva, Switzerland, where he had the opportunity of acquiring invaluable experience of multilateral diplomacy during 2005 – 2008. He has participated in decision making processes within the UN system as a member of the Pakistani corps of diplomats, representing Pakistan in meetings related to Disarmament, Science and Technology, Economic and Social Affairs and Human Rights.
After his retirement from PAEC, Dr. Qureshi served as the Executive Director of 'Commission on Science and Technology for Sustainable Development in the South (COMSATS), where he managed the affairs of this Pakistan-based international organization having 21 developing countries as Member States. Apart from more than 60 international events, benefitting thousands of scientists in the developing countries held during his tenure, five more Institutions in Asia and Africa were added to COMSATS' Network of Centres of Excellence. By virtue of his Executive position in COMSATS, he also acted as the Chairman Board of Governors of COMSATS Institute of Information Technology (CIIT), for eight years. In this capacity he played a crucial role in the expansion of academic programmes at the institute. He is also an Adjunct Professor at CIIT and Pakistan Institute of Engineering and Applied Sciences (PIEAS) where he has been teaching Nuclear Physics courses at graduate and undergraduate level.
Dr. Qureshi was awarded Pakistan's Civil award 'Tamgha-i-Imtiaz' in 2004 and Fellowship of Pakistan Nuclear Society in 2010.
He is married and blessed with two children and four grand children.